08 / 07 / 2015
Ido Marcus is the 2015 Yu-Gi-Oh! TCG European Champion!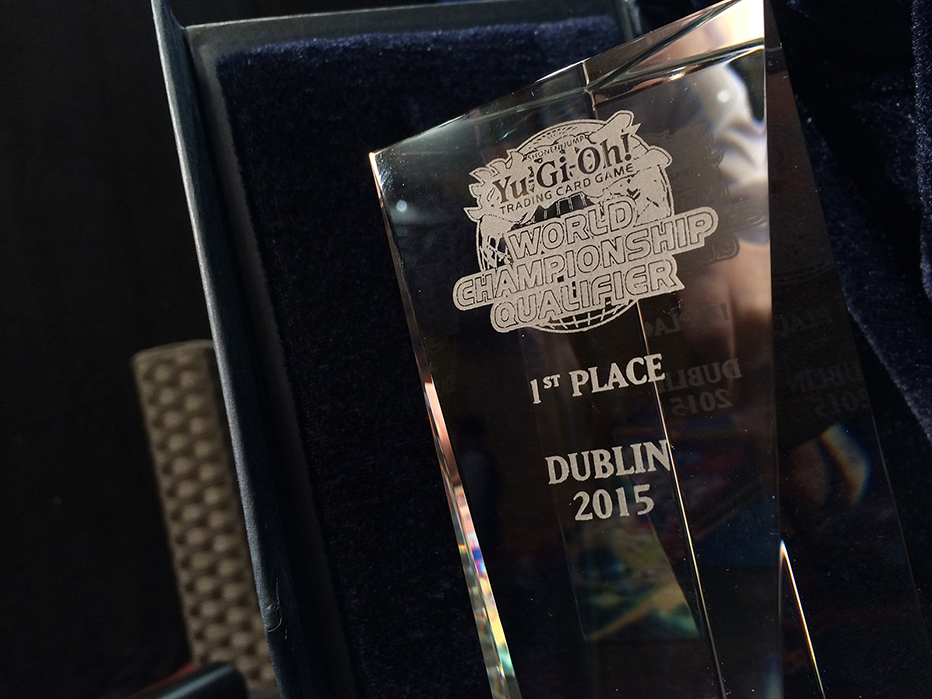 787 Duelists from all over Europe made their way to Dublin to compete for the title of Yu-Gi-Oh! TCG European Champion. These players earned the right to compete by Dueling their best in over 500 WCQ: Regional events, over 30 WCQ: National Championships and at each Yu-Gi-Oh! Championship Series held since September 2014.
Europe's strongest Duelists were all competing in Dublin but only one would become champion. After 17 rounds of high-level play over two days, Israel's Ido Marcus was the Duelist celebrating at Convention Centre Dublin and writing his name into the history books.
Marcus and his Shaddoll Deck squared off against Germany's Jörg Müller in an enthralling Final Match on the Sunday evening. Although Müller showed tremendous skill throughout the weekend, his Nekroz Deck was ultimately defeated by Marcus', as Shaddoll Falco was played to win the final Duel of the weekend.
In addition to the title of Yu-Gi-Oh! TCG European Champion and winner's trophy, Marcus' prize package includes a 64GB iPad, exclusive prize card and the honour of representing Europe at the 2015 Yu-Gi-Oh! TCG World Championship which takes place in Kyoto, Japan on August 15/16. Müller will also compete in Kyoto, along with the two Semi-Finalists, Riccardo Loggia and Alessandro di Patria, both from Italy, all of which will compete for the title of Yu-Gi-Oh! TCG World Champion against the greatest Duelists from each continent.
This year's Yu-Gi-Oh! TCG European Dragon Duel Champion winner was Andrea Pittorino from Italy. Andrea bested other players of his age group and has earned a qualification to the Dragon Duel World Championship, that will run alongside the main competition. Hungary's Zoltán Kolonics will also represent Europe at this event.
In addition to the main events, Duelists also competed in various events open to the public over the course of the weekend. These Public Events included tournaments to win giant Yu-Gi-Oh! TCG cards, exclusive Game Mats, Yu-Gi-Oh!-themed carnival activities and qualifications to the 2016 European Championship. The event was also broadcast worldwide via the Yu-Gi-Oh! TCG's highly successful Twitch channel, so that Dueling fans around the world could watch the top players make their way to the finals.
Duelists needn't wait long for their next weekend of exciting Yu-Gi-Oh!-themed action as the Yu-Gi-Oh! Championship Series returns, with the next event taking place in Rimini, Italy on August 29/30. This was the location of last year's World Championship event, the success of which ensured that another major tournament would visit the region this year.
For all of the latest information regarding Yu-Gi-Oh! TRADING CARD GAME products and events, please visit the following: