03 / 04 / 2019
DUELING ACTION GETS BIGGER AND BETTER THIS SPRING IN THE Yu-Gi-Oh! TRADING CARD GAME!
Your favourite Decks are about to get better this Spring in the Yu-Gi-Oh! TRADING CARD GAME (TCG), as time-honored themes are reinvented and modern classics reach new heights. Konami Digital Entertainment, B.V. (KONAMI) is excited to usher in bright new futures for fan-favourite strategies from the past and present. It all starts with the Duel Power collector's set, ramping up the action with loads of amazing new cards, and levelling the playing field with awesome reprints.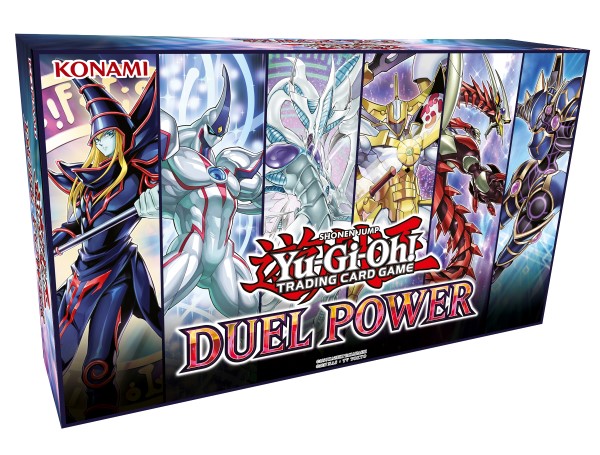 Duel Power heralds the debut of stunning new Link Monsters, introducing theme-stamped Link Summons to strategies that didn't have their own Link Monsters before. And if that wasn't enough, flexible new Link Monsters like Beat Cop from the Underworld and Security Dragon bring new combos and control moves to a cadre of different Decks.  
The Duel Power collector's set is one of the most anticipated releases of the year: an elite collection of 100 Ultra Rares that include 40 brand-new cards destined to shake up every level of competition, plus 60 of the strongest and most sought-after cards in Dueling today. Each Duel Power collector's set includes six Duel Power booster packs with 5 Ultra Rare cards per pack. And fans of the Yu-Gi-Oh! TV series will find something special in every Duel Power collector's set: Ultra Rare variants of all six ace monsters from every generation of Dueling, from Dark Magician to Decode Talker, each with stunning new artwork. Joining the past with the present, Duel Power also re-envisions some of the most famous cards in Dueling history, including new versions of Dark Magician and Cyber Dragon.
Every Duel Power booster pack is loaded with cards to strengthen your Deck-building arsenal, from tournament mainstays Card of Demise to "discard" Effect Monsters like Ghost Ogre & Snow Rabbit. Extra Deck powerhouses like the stunning Borreload Dragon are back too, making Duel Power an essential purchase for competitive players.
The Duel Power collector's set launches on April 4 with 6 new Ultra Rare variant cards in every box, plus 6 Duel Power booster packs with 5 Ultra Rare cards each. The Duel Power booster set consists of 100 Ultra Rares total: 60 Ultra Rare reprints and 40 all-new Ultra Rares.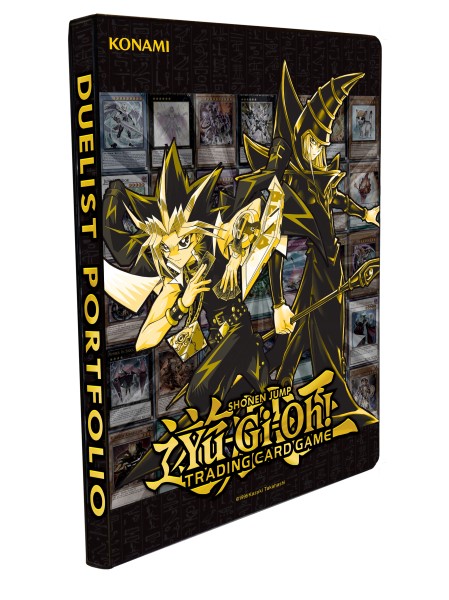 Protect and display your collection with accessories that showcase some of Dueling's most iconic cards with the Golden Duelist Collection. The Golden Duelist Collection draws together dozens of fan-favourite Monsters, Spells and Traps in a rich black and gold motif punctuated by a timeless image of Yugi and the Dark Magician.
Following up on the February release of the Golden Duelist Card Case, Card Sleeves and Game Mat you can now show off your trades with the Golden Duelist Collection Duelist Portfolio featuring an exclusive glittering foil finish, unique to the Golden Duelist Collection. The stylish black and gold motif runs through all four accessories, lending a touch of luxury to your Dueling that even Kaiba would approve of.
The Golden Duelist Collection Duelist Portfolio arrives April 18, and includes 10 pages with 9 card pockets per page, displaying up to 180 cards.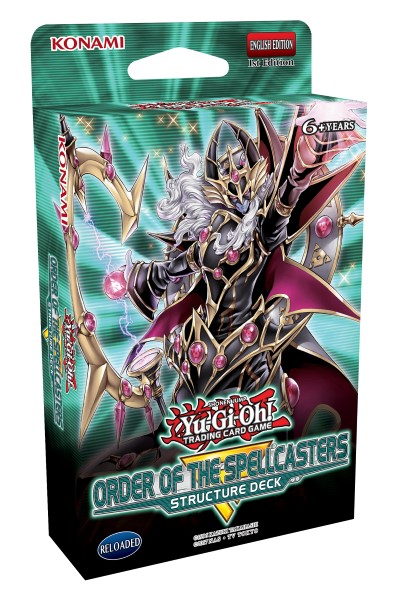 From there the season turns to the ancient and arcane, as some of Dueling's greatest sorcerers and spellcasters return to claim their rightful place. Structure Deck: Order of the Spellcasters assembles a cast of classic conjurers and imbues them all with a new form of trickery: abilities that let them change from powerful monsters into raw magic and back again. Fan-favourites return as Pendulum Monsters, all powered by the "Spell Counter" mechanic. Endymion, the Master Magician makes a revolutionary return, the new leader of the Magical City uses Spell Counters as sorcerous shields to protect himself from destruction.
A new Link Monster joins the battle to make even bigger plays, turning your Spell Counters into raw destructive power while new Spell Cards let you search and reuse your most powerful. Combined with popular Spell Cards like Spellbook of Secrets, and the peerless Pot of Desires, Structure Deck: Order of the Spellcasters is loaded with all the arcane opportunities you need to mount your magical conquest.
Structure Deck: Order of the Spellcasters is available April 18 with 1 Beginner's Guide, 1 Double-sided Deluxe Game Mat/Dueling Guide, and 42 cards total: 37 Commons, 3 Super Rares, and 2 Ultra Rares.