26 / 02 / 2019
THE NEW FUTURE OF DUELING ARRIVES THIS MARCH IN THE Yu-Gi-Oh! TRADING CARD GAME!
Duelists across the globe will set their eyes on the horizon this March in the Yu-Gi-Oh! TRADING CARD GAME (TCG), as old boundaries are shattered and new possibilities emerge in three exciting releases! Konami Digital Entertainment B.V. (KONAMI) is thrilled to shake things up with new surprises in Savage Strike Special Edition, debut Deck themes in The Infinity Chasers, and a fresh chapter in the latest and most innovative Dueling format with Speed Duel: Arena of Lost Souls.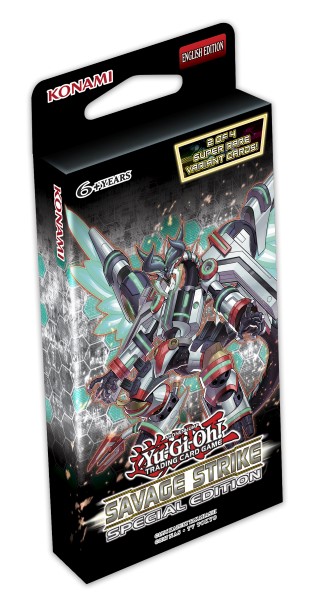 Savage Strike Special Edition kicks it all off with one last look back, offering more opportunities for Duelists to snag all the top picks from the first booster set of 2019 at a price that can't be beat. Every Special Edition includes three packs of Savage Strike, featuring key cards such as Cyberse Quantum Dragon, Borreload Savage Dragon, Witch's Strike and Pot of Extravagance.
Every Savage Strike Special Edition box also includes 1 of 2 Super Rare variant cards, plus 1 of 2 Super Rare preview cards. Each box comes with a guarantee of Trickstar Crimson Heart or White Rose Dragon, two highly sought-after cards that play into existing strategies. You'll also find a Super Rare preview of a non-foil card from the upcoming Dark Neostorm booster set; either a new Cyberse monster or Yuki-Musume, the Ice Mayakashi.
Savage Strike Special Edition arrives March 8 with 3 booster packs, 1 of 2 Super Rare variant cards, and 1 of 2 Super Rare preview cards from Dark Neostorm.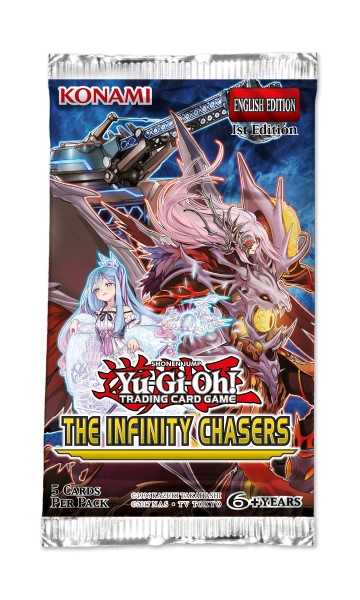 Two weeks later we'll see the arrival of 2019's first all-foil premium booster set with The Infinity Chasers. The successor to last year's Dark Saviors release, The Infinity Chasers unleashes three all-new themes making their Dueling debut. Duelists can expect to find new themes featuring Machine and Spellcaster-Type monsters which create new strategies and support popular themes from the past. This booster set also introduces a new tournament favourite, the "Evil Eye" theme.
The Infinity Chasers is available March 22 with 60 cards total: 40 Super Rares and 20 Secret Rares.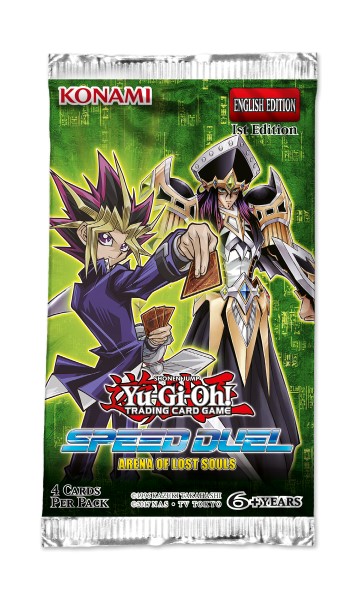 And lastly the future of Speed Dueling is now! Speed Duel: Arena of Lost Souls is the first-ever Speed Duel Booster, building on the stellar success and fast-paced action of the Speed Duel Starter Decks with 45 cards that are new to the format, plus 5 all-new Skill Cards.
Yugi fans will discover a new-to-Speed-Duels strategy in Yugi's Royal Knights! Harness the potential of Arcana Knight Joker and add a new Skill to your repertoire to make the most of the mighty royal flush. Ishizu fans will have a new Skill card to look out for, and additional support for Gravekeeper monsters. Finally, Bonz steals the spotlight with his first Speed Dueling appearance! The brute force of the undead is at your fingertips; how you use them is up to you…and the Skill Card you carry into battle.
The Speed Duel: Arena of Lost Souls booster launches March 29 with a total of 45 cards that are new to Speed Dueling plus 5 new Skill Cards: 34 Commons, 8 Super Rares and 8 Ultra Rares.
Speed Dueling is a new way to play the Yu-Gi-Oh! TCG, bringing the gameplay mechanics of Yu-Gi-Oh! Duel Links to the physical world. Learn more at https://www.yugioh-card.com/speedduel