08 / 05 / 2018
Yu-Gi-Oh! Championship Series to host simultaneous 200th events across the globe.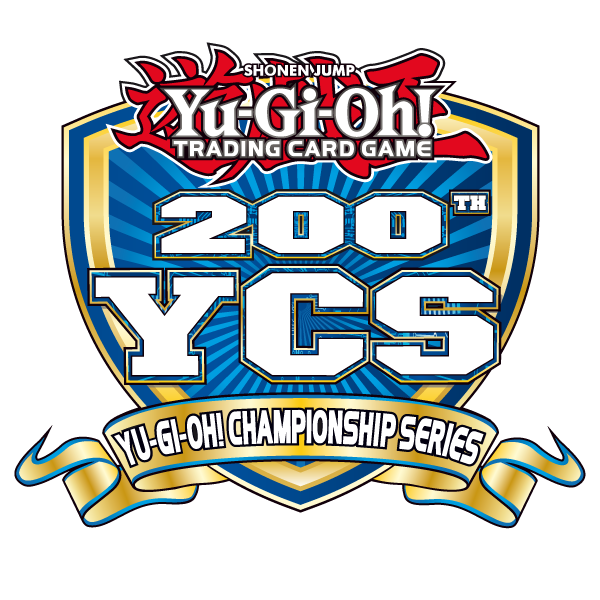 It's Time to Duel around the world!  Konami Digital Entertainment, B.V. (KONAMI) is celebrating its 200th Yu-Gi-Oh! Championship Series (YCS) simultaneously in The Netherlands, Mexico, and the United States on September 22/23.
It all began back in 2004 with the first ever SHONEN JUMP Championship* held in Anaheim, California (United States), with 308 Duelists competing for the title. Since then, the Yu-Gi-Oh! Championship Series has expanded in size and travelled the world, bringing the Yu-Gi-Oh! TRADING CARD GAME to a global audience. Duelists across the world have experienced many special moments, highlights including a world record attendance of 4,000 Duelists (YCS Long Beach in 2012), expansion to Europe (YCS Bochum in 2010) and Oceania (YCS Sydney in 2014), and the advent of livestreaming (YCS Madrid in 2014). The 200th YCS will bring all of these Duelists together for a special experience in 3 cities, a first for the Yu-Gi-Oh! TRADING CARD GAME.
Three 200th Yu-Gi-Oh! Championship Series tournaments will take place on September 22nd and 23rd. In Europe, Duelists will head to The Netherlands, as the city of Utrecht will kick off the festivities. A few hours later, American Duelists will compete in Columbus, Ohio (United States) and Mexico City (Mexico) as their respective 200th YCS tournaments kick off.
Europe's strongest Duelists will compete at the Jaarbeurs in Utrecht, where only one will become champion. Players will compete in multiple rounds of high-level play over two days, against some of the strongest opponents around. This is the second major Yu-Gi-Oh! TCG event to be held in Utrecht in as many years, with Jaarbeurs also hosting last year's European Championship. Players and event attendees were impressed with what the Dutch city had to offer and due to their feedback KONAMI decided to host the upcoming YCS event in the city in 2018. Outside of the tournament environment, visitors to Utrecht can expect to enjoy themselves in this vibrant and exciting city.
After two days of Dueling action, a single Duelist from each region will emerge as 200th YCS Champions, earning paid travel and accommodations to their respective Continental Championships in 2019.  The winners of the 200th YCS main events will claim the first ever Ultra Rare copies of the brand-new YCS Prize Card, while 2nd and 3rd place finishers will take home Super Rare variants. Everyone in the Top 32 will receive exclusive 200th YCS Top Cut Game Mats featuring the new Prize Card, as well as World Qualifying Points, Ultimate Duelist Series Points**, and invitations to their respective Continental Championships. Additional prizes will be awarded to Duelists who finish in high-ranking positions, and everybody that takes part will receive an exclusive Game Mat, and a number of booster packs equal in value to their tournament entry cost.
As with all international-level tournaments held in Europe, Yu-Gi-Oh! Championship Series Utrecht will feature live and comprehensive reporting so that Dueling fans around the world can follow their favourite players and cheer them on. Over 20 hours of live gameplay, commentary and analysis will be broadcasted on the Yu-Gi-Oh! TCG's official Twitch, Facebook and YouTube channels, with additional articles and updates shared via Facebook and the Yu-Gi-Oh! TCG Coverage Blog.
Yu-Gi-Oh! Championship Series Utrecht is also the second event in the 2018 Ordeal of a Traveler programme, which rewards loyal YCS attendees for their attendance with exclusive promotional items. Duelists who attended every European YCS event will take home a specially-designed Game Mat at the end of the year, with those who missed out on only 1 YCS event throughout the year earning a smaller-scale mouse mat of the same design.
Yu-Gi-Oh! Championship Series Utrecht Information:
Date:
Pre-registration:            September 21
Tournaments:                September 22/23
Location:
Hal 1
Jaarbeurs
Beatrixgebouw,
Jaarbeursplein 1
3521 AL
Utrecht
The Netherlands
Tournament Entry Fee (main event):
€20
* The first 75 tournaments were known as Yu-Gi-Oh! TCG SHONEN JUMP Championships, with subsequent events referred to as the Yu-Gi-Oh! Championship Series.
** The Ultimate Duelist Series is an American-only competition, and points for it will only be awarded at YCS Columbus and YCS Mexico City.