02 / 10 / 2017
Legendary Dragons soar and Link Monsters reach new heights in the Yu-Gi-Oh! TRADING CARD GAME!
Fierce Dragons ascend and dozens of Decks get more powerful, as two tremendous releases from Konami Digital Entertainment, Inc. (KONAMI) change the Dueling landscape in the Yu-Gi-Oh! TRADING CARD GAME (TCG) this October – the Yu-Gi-Oh! TCG Legendary Dragon Decks Collector's Set, and the Circuit Break booster set.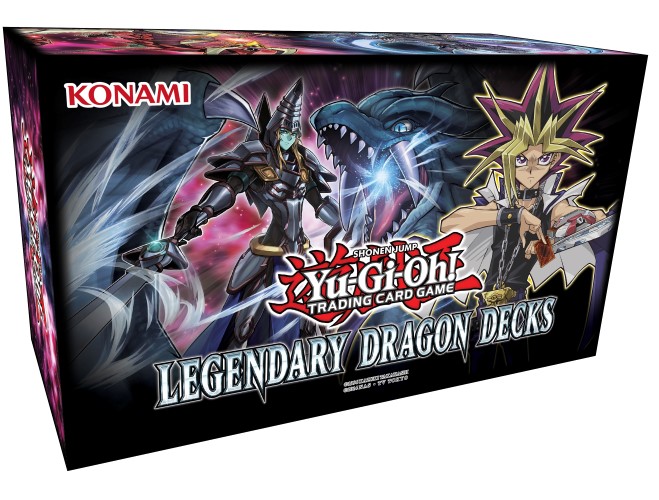 The Legendary Dragon Decks set spans three different eras of the Yu-Gi-Oh! animated series: each arrives ready-to-play with a 40-card Main Deck, and each has an Extra Deck to match.  The first of these signature strategies revisits the Legendary Dragons of Atlantis – Timaeus, Critias, and Hermos, as played by Yugi, Joey, and Kaiba. The second recharges Zane Truesdale's Cyber Dragons from Yu-Gi-Oh! GX, and the third revamps Yuya's Dimensional Dragons from Yu-Gi-Oh! ARC-V.
Each of the three Decks comes with 5 foil cards, and Duelists will find variant art versions of Odd-Eyes Pendulum Dragon, Dark Rebellion Xyz Dragon, Clear Wing Synchro Dragon, and Starving Venom Fusion Dragon.  Every Deck also has one brand-new card to elevate classic strategies: a never-before-seen Cyber Dragon Fusion; a new "Odd-Eyes" Pendulum Monster; and a Fusion Monster that unites The Eye of Timaeus and Dark Magician!
The Yu-Gi-Oh! TCG Legendary Dragon Decks Collector's Set arrives October 5 with 3 ready-to-play 51-card Decks, each with 5 foil cards – 153 cards total.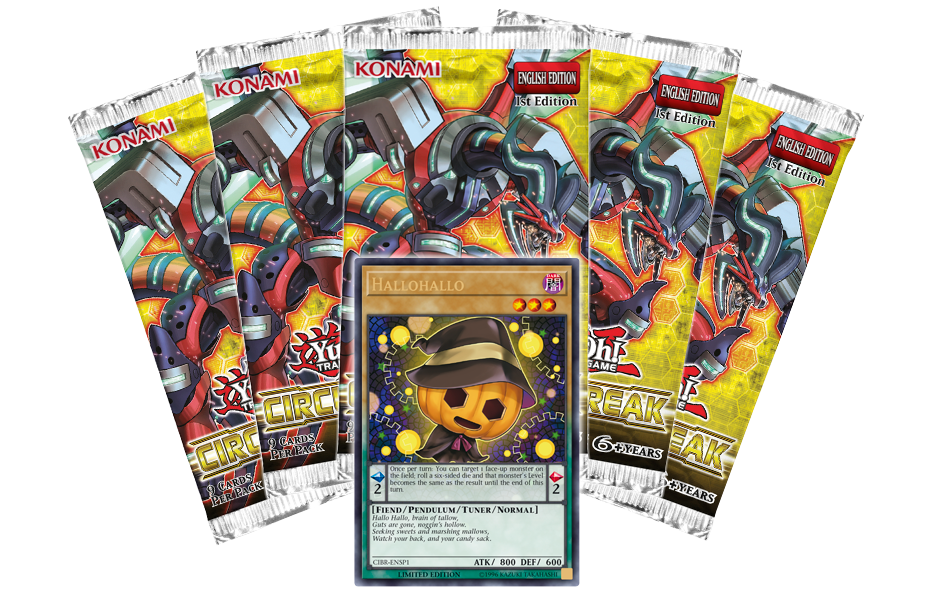 No matter what your strategy, the Circuit Break booster set is the next step forward. Three new monster themes are set to electrify your Duels: the Krawlers are an insectoid swarm that freeze your opponent's monsters and leave them defenseless. The Altergeists are powerful techno-poltergeists, using the Graveyard to control the living. And Revolver's "Rokket" monsters combine with Borreload Dragon to take aim at  your opponent's monsters with sharpshooting abilities. But that's not all: Circuit Break is packed with legacy cards for fan-favorite Decks, plus new Spell and Trap cards you can play in any strategy.
Gouki Thunder Ogre and Trickstar Black Catbat power up Decks from Code of the Duelist, while legacy cards like Fire King Avatar Arvata, Mermail Abyssnerei, and Mecha Phantom Beast Raiten power up popular themes like never before!  Incredible new Link Monsters like Borreload Dragon and Akashic Magician bring deadly effects to almost any strategy, while Destrudo the Lost Dragon's Frisson makes Synchro Summoning easier than ever before, and the stunning Trap Card Evenly Matched turns the tables entirely, wiping the field just when your opponent thinks they've triumphed.
Duelists can get their first taste of Circuit Break at Sneak Peeks scheduled for October 14 and/or October 15 at participating Official Tournament Stores (OTS). Duelists can find more information and a list of participating locations on yugioh-card.com. Circuit Break launches October 19 with 100 cards: 48 Commons, 20 Rares, 14 Super Rares, 10 Ultra Rares, and 8 Secret Rares.
Duelists can now watch episodes of the exciting new Yu-Gi-Oh! animated series, Yu-Gi-Oh VRAINS, available subtitled on Crunchyroll. Subtitles are available in English, Spanish, Portuguese and German.
Watch here: http://www.crunchyroll.com/yu-gi-oh-vrains