23 / 01 / 2017
KONAMI shows its hand as Yu-Gi-Oh! hits the Silver Screen
Movie Pack Gold Edition based on new Yu-Gi-Oh! THE DARK SIDE OF DIMENSIONS movie revealed: as KONAMI details key releases including Yu-Gi-Oh! Duel Links now available on Android and iOS.
Konami Digital Entertainment, B.V is celebrating an incredible 2017 for its Yu-Gi-Oh! series. Starting with the release of the highly anticipated Yu-Gi-Oh! THE DARK SIDE OF DIMENSIONS movie, and the advent of a special 57-card collection – Yu-Gi-Oh! The Dark Side of Dimensions Movie Pack Gold Edition – featuring key characters from the theatrical release.
Yu-Gi-Oh! THE DARK SIDE OF DIMENSIONS is a new story from original series creator Kazuki Takahashi, and reunites the characters of the original Yu-Gi-Oh! TV series; picking up from where the last season of the original series left off. Focusing on original Duelists Yugi and Kaiba, Takahashi-san's masterful tale features the Anime's most beloved characters alongside a cast of familiar heroes: Joey Wheeler, Tristan Taylor, Téa Gardner and Bakura. It's the most highly anticipated re-YU-nion ever!
The movie opens in cinemas for a limited period on February 1st across the UK and Ireland. The theatrical presentation also showcases 'Blue-Eyes White Dragon' from KONAMI's May 2016 Shining Victories booster set, and 'Dark Magician' from August's The Dark Illusion.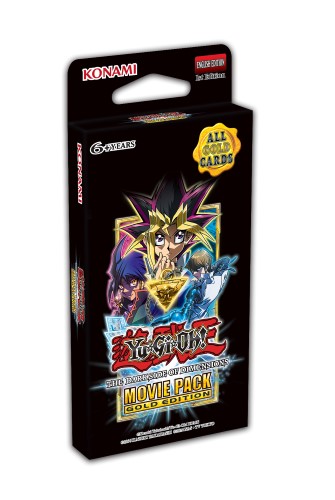 Available ahead of the film, Yu-Gi-Oh! The Dark Side of Dimensions Movie Pack Gold Edition will enable Duelists to pack their Shining Victories and The Dark Illusion-era Decks with the powerful new Blue-Eyes and Magician cards featured in the movie. The new 'Neo Blue-Eyes Ultimate Dragon' Fusion Monster can attack up to three times in one turn with its 4500 Attack Points proving devastatingly effective. The movie also introduces a new threat, 'Aigami', whose dimension dueling 'Cubic' monsters make up much of this set. 'Cubic' monsters have wide-ranging powers to shut down opposing monster effects and prevent attacks. Their math-centered strategy builds up over time, with each round of monsters getting users more cards to work with and setting up for the next level, building ultimately to their massive Fusion Monster, who slashes the opponent's Life Points in half with every attack.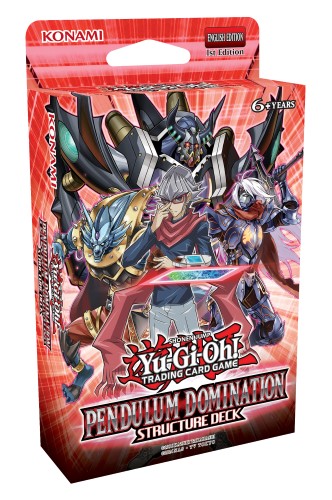 In addition to the movie and Yu-Gi-Oh! The Dark Side of Dimensions Movie Pack Gold Edition, 2017 promises to be a stunning year for Yu-Gi-Oh! fans. January 18th will see the debut of the Pendulum Domination Structure Deck. This 43-card Deck is centered on planning and executing the perfect strategy for every Duel. The 'Dark Contract' cards allow users to move 'D/D' monsters into hand, field, or even Pendulum Zones. These cards can even give your monsters a massive ATK boost, prevent interference from Trap Cards, or break the basic rules of Fusion Summoning. However, prolonged reliance on Dark Contracts has an adverse effect on your Life Points.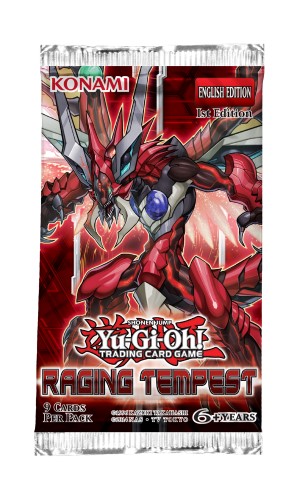 February 8th will then see the advent of the Raging Tempest core booster. An all-new 100-card booster set, Raging Tempest starts off three new themes and enhances many previous ones. This covers strategies from Dimension of Chaos, Breakers of Shadow, High-Speed Riders, Wing Raiders, Dragons of Legend –Unleashed–, the Pendulum Domination Structure Deck, and even an upcoming Structure Deck!
In addition to great new cards for a variety of themes, Raging Tempest also has many powerful standalone cards that can be used in many different Decks. From a new card in the extremely potent 'Virus' series that began with Kaiba's 'Crush Card Virus' to a gargantuan monster that can reset reality.
The release of Raging Tempest will also be highlighted in special UK retail events, with details available via:
http://www.yugioh-card.com/uk/events/detail.php?id=2080
Yu-Gi-Oh! continues to go from strength to strength, with its reach set to extend via the popular Yu-Gi-Oh! Duel Links game for Android and iOS users. Now available across 150 countries and regions, Yu-Gi-Oh! Duel Links allows Duelists to construct the ultimate Deck by choosing from more than 700 authentic Yu-Gi-Oh! cards to play in fast-paced, real-time PvP Duels. The essence of Yu-Gi-Oh! is re-imagined for mobile as players can battle Duelists from all over the world by Summoning monsters, Traps and Spells in an effort to reduce their opponent's life points to ensure victory.
The world's best players gathered in Sydney, Australia – for the 175th Yu-Gi-Oh! Championship Series event. To help celebrate this milestone, 1000 Duelists attended where they participated in a variety of special events. Key matches were also held onsite and made available online via live stream: https://coverage.yugioh-card.com/.
.