---
Parte 3: Ishizu
Bienvenido de nuevo a otro artículo sobre nuestro próximo producto Baraja de Principiante Speed Duel: Maestros del Destino y Duelistas del Mañana.
A Ishizu se le encomendó la custodia de la tumba del faraón, junto con su hermano Marik. Finalmente, Marik no quiso seguir este camino y desató su retorcida oscuridad interior. Ishizu, desesperada por salvar a su hermano, manipuló a Kaiba para que lanzara el Battle City Tournament dándole 1 de las 3 cartas legendarias de Dios Egipcio, "Obelisk the Tormentor", con la intención de recuperar la carta.
Gracias a su Millennium Necklace, Ishizu pudo ver el futuro y saber exactamente cómo todo encajaría en su lugar. Casi todo salió según lo planeado hasta el momento en que Ishizu estaba a punto de ganar su Duelo contra Kaiba, cuando un evento inesperado hizo que Kaiba convocara a su Blue-Eyes White Dragon en lugar de atacar con Obelisk the Tormentor que le permitió ganar el Duelo. Ishizu aprendió de ese Duelo que el futuro no está escrito en piedra y le dio el Millennium Necklace a Yugi.
Aquí está la nueva Habilidad de Ishizu: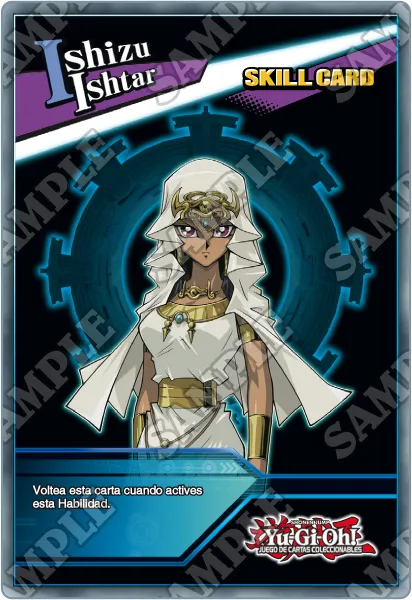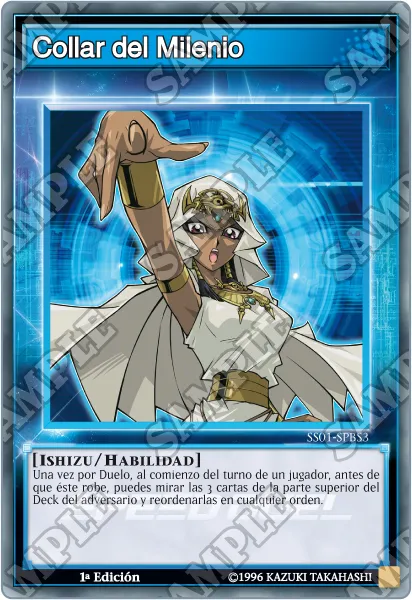 Al comienzo del turno del oponente, antes de que se robe, puedes mirar las 3 primeras cartas de su Deck y reorganizarlas en cualquier orden.

Esta Habilidad solo se puede usar una vez por duelo.
La Habilidad del Millennium Necklace te da una idea del futuro de tu oponente y te permite manipular eventos a tu favor. Los jugadores que han jugado a Advanced Constructed Yu‑Gi‑Oh! pueden recordar la carta Spyral Drone, que es un monstruo que te permite mirar las mejores cartas del Deck de tu oponente y manipularlas.
Los duelistas en todos lados vieron rápidamente que era muy fuerte reorganizar la parte superior del Deck del oponente para evitar que robaran cartas de regreso. Como Habilidad es un poco diferente de algunas de las que hemos mostrado hasta ahora. Si quieres construir tu Deck de cierta manera y no hay Habilidades directas para mejorar tu Deck, este es el tipo de Habilidad que podrías agregar a cualquier estrategia que quisieras y usarla para hacer retroceder a tu oponente.
Al igual que la Habilidad "Millenium Eye" de Pegasus, esta es una que recompensará a los jugadores experimentados. La clave es saber exactamente cuándo usar la habilidad para sacar provecho de negar a tu oponente una carta particular que necesitan. Un nivel más profundo de esta Habilidad es que el oponente no puede mirar las cartas que reorganizas, esto significa que puedes obtener información sobre lo que el oponente no tiene en su mano para tomar mejores decisiones. Puede ser difícil tender una trampa poderosa cuando no sabes lo que vio el oponente en tu Deck.
Esperamos que hayas disfrutado con las novedades futuras y esperamos compartir más revelaciones pronto.
¡Gracias por leerlo!