---
Click on a topic below to learn more!
What is Yu‑Gi‑Oh! ?
Yu‑Gi‑Oh! is a popular children's franchise. It's based on a universe in which characters challenge one another to a strategy card game to gain honour, settle disputes, and protect their loved ones. The Yu‑Gi‑Oh! franchise began with a manga series (similar to a series of American comic books) and expanded into a television series. To date, there are 7 different series of the animated Yu‑Gi‑Oh! television show, each featuring different characters. These series include the original animated Yu‑Gi‑Oh! series, Yu‑Gi‑Oh! GX, Yu‑Gi‑Oh! 5D's, Yu‑Gi‑Oh! ZEXAL, Yu‑Gi‑Oh! ARC-V, Yu‑Gi‑Oh! VRAINS, and Yu‑Gi‑Oh! SEVENS. In each series, the main protagonist is a young student or teenager who dreams big, sets goals, and strategises to accomplish those goals. These protagonists are known as Duelists and compete in exciting strategy card games called "Duels," always while maintaining a strong moral compass, a commitment to their friends, and an understanding of the importance of good sportsmanship.
In addition to a manga and television show, the Yu‑Gi‑Oh! franchise spans across several digital games. These digital games include Yu‑Gi‑Oh! Legacy of the Duelist on the PS4™, Xbox One, and PC Steam, Yu‑Gi‑Oh! Legacy of the Duelist: Link Evolution on the PS4™, Xbox One, PC Steam, and Nintendo Switch, Yu‑Gi‑Oh! DUEL LINKS on iOS, Android, and PC Steam, Yu‑Gi‑Oh! RUSH DUEL: Dawn of the Battle Royale!! on the Nintendo Switch,Yu‑Gi‑Oh! MASTER DUEL, which is available for cross-platform play and progression on Android, iOS, PC Steam, PS4 and PS5, Xbox One, Xbox Series X|S, and Nintendo Switch, and Yu‑Gi‑Oh! CROSS DUEL on iOS and Android. Each of these digital games requires players to think strategically to succeed. For more information about Yu‑Gi‑Oh! digital games, check out our Digital section.
The Yu‑Gi‑Oh! TCG combines everything that's exciting about the Yu‑Gi‑Oh! brand. It lets kids relive the intense card game Duels from the TV show; teaches them to think strategically to succeed, encourages them to forge friendships with peers who have a common interest in the card game (just like the characters do in the manga and the Yu‑Gi‑Oh! animated series), and allows them to set and achieve goals as they become contenders in Yu‑Gi‑Oh! TCG tournaments. Kids can collect their favourite Monster Cards, Spell Cards, and Trap Cards from the show, then combine them into a custom Deck to Duel against their friends. Each Deck is unique, built from a pool of thousands of possible cards. Your child's Deck is the product of their creativity and ingenuity.
What Is a Trading Card Game?
A trading card game is a unique product that encourages interaction and socialisation between the people who play it. Unlike a board game or video game which begins and ends in one box, TCGs are constantly changing, adding new and exciting content. Trading card game players can start with ready-made Starter or Structure Decks, and then add to those Decks using new cards from booster packs. Booster packs with all-new cards are released several times a year, keeping the play environment fresh and exciting. New cards lead to new possibilities, making the potential for new Decks and strategies limitless.
Some Yu‑Gi‑Oh! players (also known as Duelists) focus on collecting all the cards, while other Duelists prefer to collect the cards they want to use in their Decks. Collecting is an enjoyable activity all by itself, but the cards are designed with gameplay in mind. It's a lot of fun to take that collection, build some Decks, and play some games!
If you're looking for a way to introduce your child to the Yu‑Gi‑Oh! TCG, Yu‑Gi‑Oh! TCG Speed Duel (Speed Duel) is the perfect place to start! While still challenging, Speed Duel is a specialised version of the Yu‑Gi‑Oh! TCG that is easy to learn and is based on the ruleset found in the wildly popular Yu‑Gi‑Oh! DUEL LINKS digital game. Find out more about Speed Duel here.
Yu‑Gi‑Oh! NEURON is the official support app for the Yu‑Gi‑Oh! TCG and offers many features that can help you and your child organise their Decks, search the Yu‑Gi‑Oh! Card Database, find out where to play in sanctioned tournaments, and more! Yu‑Gi‑Oh! NEURON is free and available for download here.
Where can I purchase Yu‑Gi‑Oh! TCG Cards?
Yu‑Gi‑Oh! cards are available for purchase all around the world! Many mass market retailers carry a wide variety of Yu‑Gi‑Oh! products in the TCG section. Yu‑Gi‑Oh! products are also widely available at hobby stores that specialise in selling trading cards. Most Yu‑Gi‑Oh! products can be found at both mass market retail stores and at hobby stores, but others may be exclusive to one or the other.
Many hobby stores have a large community of Yu‑Gi‑Oh! TCG Duelists with whom your child can socialise. When you go to a hobby store with your child to purchase Yu‑Gi‑Oh! TCG cards, the experience doesn't need to end there. At many hobby stores, tables are set up for Yu‑Gi‑Oh! TCG Duelists to use while playing the Yu‑Gi‑Oh! TCG. Your child can use those tables to test out their new cards against other Duelists in the store. By testing out those cards, your child will learn new strategies and develop their ability to assess the strength of different card combinations. When you purchase Yu‑Gi‑Oh! TCG cards for your child, your child is getting much more than just the cards you buy – he or she is also getting the endless hours of enjoyment that flow from playing with those cards in the Yu‑Gi‑Oh! TCG, and from devising strategies that best utilise those new cards.
Click here for a list of hobby stores that both carry Yu‑Gi‑Oh! TCG products and provide a place to play the Yu‑Gi‑Oh! TCG. We recognise them as Konami Digital Entertainment, Inc. (KONAMI) Official Tournament Stores (OTS). These stores run official tournaments and events that are sanctioned by KONAMI.
What will my child learn from the Yu‑Gi‑Oh! TCG?
Like the game of Chess, the Yu‑Gi‑Oh! TCG is a simple game to learn the basics of, but it also offers a lot of complex strategies to keep it interesting. At the most basic level, the Yu‑Gi‑Oh! TCG requires kids to use simple math and reading skills, while exercising the social skills necessary to play against other kids. As kids get older, they learn to appreciate more complex strategies involved in the game. At the most competitive level, Duelists use deductive reasoning to make informed guesses about which cards their opponents have and invoke principles of game theory and risk assessment to plan out their moves.
The Basic Skills: Math and Reading
The Yu‑Gi‑Oh! TCG is designed for kids ages 6+. If your child can do basic addition and subtraction calculations and read the text on their cards, they will be able to play the game.
In the Yu‑Gi‑Oh! TCG, Duelists start each game with 8000 Life Points (LP). Throughout the course of a game, Duelists use cards that increase or decrease a Duelist's Life Points. A Duelist wins by reducing their opponent's Life Points to 0. Duelists must constantly calculate changes to one another's Life Points, in order to keep track of how close they are to victory. While Duelists use pen and paper and calculators to keep track of Life Points, the fast pace of the game also requires Duelists to make many calculations in their head, in order to best plan out their moves. These calculations help kids develop important basic math skills.
Most cards in the Yu‑Gi‑Oh! TCG have unique effects. Duelists need to read each card they see in order to understand its impact on the game. By reading and understanding the effect of each card, a Duelist can strategise accordingly. Children who want to win will want to read and understand every card, building their reading comprehension skills.
All the while, children exercise important problem-solving skills. They understand the starting point of each game and make it a goal to win. Throughout the course of a Duel, Duelists are constantly thinking about the different ways to achieve that goal by using their cards.
Social Skills
The Yu‑Gi‑Oh! TCG can't be played alone; your child will need opponents to play against. As your child interacts with other Yu‑Gi‑Oh! TCG Duelists, he or she will learn the importance of fair play, good sportsmanship, and competition etiquette. In addition, when your child engages in trades with other kids, he or she will gain experience conducting business-like transactions at a young age.
There are lots of kids around the world that your child can face in a Yu‑Gi‑Oh! TCG Duel. In the search for opponents, many kids forge long-lasting friendships with peers who have common interests.
The Advanced Skills: Strategic Thinking
Although the Yu‑Gi‑Oh! TCG was made for kids, many children who started playing it over a decade ago are still playing as they enter college and start careers. At a competitive level, the Yu‑Gi‑Oh! TCG requires deep strategic thinking in order to win.
Duelists who engage in critical thinking to develop complex strategies have an edge over the competition. During the course of a game, many of your opponent's cards are concealed from you. By keeping track of your opponent's moves throughout the game, advanced Duelists can reason out which cards an opponent most likely has.
Duelists who have patience and self-discipline also have an advantage over opponents. Duelists must weigh all of their options when making a play and think about the consequences of each possible play. They always need to plan ahead. An overly aggressive move may leave a Duelist defenceless, resulting in their eventual loss. The best Duelists are constantly evaluating whether the time is right to go on the offensive, and they wait until that time comes before pushing for victory. While playing the Yu‑Gi‑Oh! TCG and aspiring for victory, your child will learn the importance of having patience and planning ahead.
Even though the Yu‑Gi‑Oh! TCG is educational, it's also fun! When kids play the Yu‑Gi‑Oh! TCG, they don't realise how much they're learning. Kids who are eager to play and eager to win are constantly developing math, reading, and critical thinking skills, even though they aren't aware of it.
How can my child begin trading Yu‑Gi‑Oh! TCG cards?
Trading is a big part of Trading Card Games – after all, it's in the name! Trading is a great way for Duelists to expand their collections and exchange cards that they already have or don't need, for cards that they are looking for. Since the cards have different values, it can take a bit of practice and preparation to make the best trades. If your child is interested in trading, you can help him or her get the most out of the process. You will find that when your child trades to get the cards that he or she wants, he or she is engaged in an exciting and challenging social activity!
First, help your child organise and store that collection! Providing card boxes or binders keeps cards off the floor and in good condition, and easy to locate when needed. Organisation is a good skill to learn and maintaining a card collection is a great place to begin.
Second, encourage your child to learn about the value of their cards. There are lots of collectible magazines and online stores that list current prices. Your child doesn't have to learn about every card but having an idea of what their more appealing cards are worth will help your child make balanced decisions when trading. When your child adds up the values of different cards to make informed trades, your child is practicing important math and decision-making skills.
When your child is starting out, you might want to put limits on which cards can be traded—if your child has any valuable cards or cards given as gifts, you can let your child know that they should not trade them. Let your child know that they do not have to trade if they don't want to, as sometimes children can feel pressured into trades. Let your child know that it's okay to turn down a trade if they don't feel comfortable about it.
Almost all Yu‑Gi‑Oh! TCG Duelists and collectors trade cards, so you can find kids for your child to trade with just about everywhere! If you're having trouble finding kids for your child to trade with, you can take your child to a KONAMI Organised Play event. At those events, there are usually lots of kids trading cards and playing the Yu‑Gi‑Oh! TCG.
What is Organised Play?
Organised Play encompasses a variety of programs developed by KONAMI to enable collectors and Duelists to come together and experience the Yu‑Gi‑Oh! TCG. Casual local leagues and tournaments of all sizes and complexity are hosted worldwide. This variety offers Duelists in many different areas with all sorts of skill levels the chance to come together and Duel where they're most comfortable.
Playing casually at home with friends and family is lots of fun, but there are all kinds of benefits to participating in Organised Play events. Duelists get the chance to make new friends, find new Duelists to trade with, learn more strategies and game tips, and even win some cool prizes. Kids receive the benefit of a structured environment that teaches them good sporting conduct and helps them develop a sense of accomplishment as they become better Duelists.
Every KONAMI Official Tournament Store (OTS) periodically hosts one or more Organised Play events. Each Organised Play event that an OTS hosts provides a new opportunity for your child to meet up with other fans of the Yu‑Gi‑Oh! TCG. You can find a detailed description of some of the different types of Organised Play events that an OTS can host in the "What Kind of Organised Play Event is Best for My Child?" Section.
Most OTS locations have tables set up for Duelists to meet up and challenge one another at any time. This means that even when no scheduled events are taking place, as long as there's an OTS nearby, your child will have a place to practice their Yu‑Gi‑Oh! TCG strategies. Click here to find an OTS in your area!
How can my child get started in Organised Play?
Playing in a Yu‑Gi‑Oh! TCG Organised Play event is often as simple as showing up to a tournament and signing up to participate. Official Yu‑Gi‑Oh! TCG tournaments require participants to have a CARD GAME ID number in order to participate. New tournament participants can get a CARD GAME ID number by obtaining a physical KONAMI CARD GAME ID card from an OTS, or sign up for one online on the official KCGN website or with a smartphone using the Yu‑Gi‑Oh! NEURON app.
The KONAMI Card Game Network (KCGN) is the global ranking system for the Yu‑Gi‑Oh! TCG. Using your child's CARD GAME ID number, you and your child can track your child's performance in sanctioned tournaments online at the official KCGN Website. Simply register on the KCGN website and then log in using your child's CARD GAME ID number and password. Then, you and your child can see how your child's ranking compares to the rankings of Duelists around the world.
You can also register online as a KONAMI ID member and link it to your child's CARD GAME ID. While it's not necessary to be a KONAMI ID member, becoming a member and linking your KONAMI ID to your Card Game ID also gives you access to a variety of other services. You can find out even more by going to our KCGN landing page here.
By using the KCGN website or Yu‑Gi‑Oh! NEURON app, you can check out your child's ranking and look back at your child's tournament history to see how much your child has improved over time. Each official tournament that your child enters will contribute to their KCGN ranking.
Most Duelists like to start out in Organised Play by playing in the more casual events, developing their skills and meeting other Duelists, before taking on some of the more challenging tournaments. There are lots of different Organised Play events all around the world, so you and your child can pick out an event that best suits you.
Dragon Duel events, for instance, are one of the most popular Organised Play events for younger Duelists. At Dragon Duel tournaments, kids compete against other children in a similar age range. This way, they can earn cool prizes in a competitive tournament, without being intimidated by the age and experience of older opponents.
When you're ready to look for an Organised Play event in your area, you can use the convenient store locator on the Yu‑Gi‑Oh! TCG website. You can navigate from the Events page to learn more about the Organised Play events we offer.
What kind of Organised Play event is best for my child?
There are lots of Organised Play events to choose from, so it may seem tricky to pick the right tournament. Most parents begin with the more casual events, and let their child determine what he or she enjoys the most – you know your own child, and best understand their interests and social tendencies. Does your child prefer to relax and have fun with friends, rather than focus on serious competition? If so, you should check with your local OTS for programs they offer like small local tournaments, Structure Deck Release Events and Premiere! Events that cater to the casual fun of playing the game, and even Remote Duel events that can be played from the comfort of your own home.
Remote Duel information for new Duelists
Remote Duel is a new option available to OTS to hold Sanctioned Tournaments. In response to the COVID-19 pandemic, Remote Duel Tournaments offer a way for Duelists to stay engaged and play Yu‑Gi‑Oh! from the comfort of their own homes, using a webcam and internet connection. Requirements for in-person events, such as appropriate dress and behaviour, and having proper tournament materials, also apply for Remote Duel Tournaments.
Remote Duel can be used for six (6) types of tournaments:
Yu‑Gi‑Oh! TCG
Yu‑Gi‑Oh! TCG Speed Duel
Yu‑Gi‑Oh! DUEL LINKS
Yu‑Gi‑Oh! MASTER DUEL
Yu‑Gi‑Oh! Legacy of the Duelist
Yu‑Gi‑Oh! Legacy of the Duelist: Link Evolution
You can contact your local OTS to see if they are running Remote Duel tournaments, and what types of Remote Duels they run.
For more information about Remote Duel, please visit our Remote Duel landing page.
Using Discord for Remote Duel
As Remote Duel requires a great deal of communication between the OTS and Duelists, we have set up an Official Yu‑Gi‑Oh! Discord Server. Discord is free to use, and we want to help players become familiar with this platform. Discord has specific policies for children 13 and under, please contact the OTS to find out more details on how you can register your child if you would like them to participate in Remote Duel events. You may need to join the Discord video channel to confirm that you are okay with your child participating in the event.
Organised Play event information for the casual Duelist
Local Tournaments vary in size, structure, length, and level of competition. Some local tournaments run with 8 or fewer Duelists, while others draw several dozen Duelists. Regardless of the size and level of competition, local tournaments always attract Duelists interested in the Yu‑Gi‑Oh! TCG. That's what makes local tournaments perfect for the casual Duelist looking to take their game to the next level. While most local tournaments give competitors a structured environment to play in with small prizes at stake, the majority of Duelists who attend are there to hang out, chat, and casually face off against people with a common interest in the Yu‑Gi‑Oh! TCG.
Premiere! Events give Duelists a chance to use upcoming Yu‑Gi‑Oh! TCG booster sets before their official release date. Participants in each Premiere! Event purchase 5 booster packs of a not-yet-released booster set and use the cards they open in those packs to play against other Premiere! Event participants. Premiere! Events consist of casual Dueling as well as tournaments similar to an OTS local tournament, that makes Premiere! Events the perfect place for children to meet other Yu‑Gi‑Oh! TCG enthusiasts in a casual setting, while adding some brand-new cards to their collection. In addition to the 5 booster packs, each Premiere! Event participant receives a special Field Center Card and is entered in a raffle for an exclusive Game Mat or Ultra Rare Card (while supplies last).
Does your child take hobbies more seriously, seeking to get better and better through stronger competition? Then you should look for events with a more skilled player base, like Regional Qualifiers, Official Tournament Store (OTS) Championships, and Yu‑Gi‑Oh! Championship Series (YCS) events.
Organised Play event information for the competitive Duelist
Regional Qualifiers are much larger than most local tournaments, and generally have tougher competition. Regional Qualifiers attract the top Duelists in the area, so if your child wants to test their skills against the best around, Regional Qualifiers are the perfect place to go. Regional Qualifiers are big tournaments that often have hundreds of participants. Top finishers receive an exclusive game mat, an exclusive Card Case, and an invitation to compete in an even more competitive tournament: The World Championship Qualifier (WCQ). To learn more about the WCQ and the road to the Yu‑Gi‑Oh! TCG World Championship, check out our Events section. Some Regional Qualifiers also host Dragon Duel tournaments, which are run just like Regional Qualifiers, but restrict entry to younger Duelists.
OTS Championships are similar to the Regional Qualifier except they are hosted in-store by specially selected OTS. At OTS Championships, Duelists compete for exclusive game mats and invitations to the World Championship Qualifier.
Yu‑Gi‑Oh! Championship Series (YCS) events are big events hosted by KONAMI, run in cities all around the world. They're a lot like Yu‑Gi‑Oh! Extravaganza events, but in addition to holding lots of small tournaments called "Public Events" at each YCS, the main attraction is a gigantic, highly-competitive tournament that typically draws between 600 and 2,000 competitors. Each YCS spans an entire weekend. The main tournament starts on Saturday morning and continues on Sunday for the competitors who play well enough to advance to the second day of competition. The main YCS event is always intense, requiring victory-hungry participants to play non-stop for long periods of time. The stakes are also high, since top finishers receive popular electronics, extremely rare promotional cards, and other valuable prizes. Even though highly-competitive Duelists frequently travel around to compete in YCS events all over the world, each YCS also attracts many casual Duelists, some of whom are new to the Yu‑Gi‑Oh! TCG. Many of these casual Duelists participate in the main tournament only for as long as they wish, or take part in shorter Public Events throughout the weekend.
Organised Play event information for the young Duelist
Young children sometimes prefer to play the Yu‑Gi‑Oh! TCG only with kids their own age. Dragon Duels make that possible by restricting participation in tournaments to children born after a certain year. If your child is most interested in meeting kids their own age and participating in tournaments with their peers, Dragon Duels are perfect for your child.
Dragon Duel events are enjoyed by most younger kids, whether or not they have a competitive spirit. At Dragon Duel events, your child will meet other young Duelists with a wide range of skill levels. Whether your child practices playing the Yu‑Gi‑Oh! TCG each week or is brand new to it, your child will find kids with whom they can relate. Dragon Duel tournaments are hosted at all different types of events, including some local tournaments, Regional Qualifiers, Yu‑Gi‑Oh! Extravaganza events, and Yu‑Gi‑Oh! Championship Series events.
Yu‑Gi‑Oh! TCG Duelists enjoy fun and competition, and most participate in a mix of all that Organised Play has to offer.
How can my child get ready to participate in Organised Play?
Once you've found an event to attend, there are a few things you'll need to do to help your child get ready. You'll both enjoy the event much more if you know what to expect and are fully prepared. Reading over this section will give you the basic information you'll need to get the most out of an event.
If some of the terms seem unfamiliar, you can check out our glossary, which provides a more detailed explanation of these terms.
What should my child bring to a tournament?
A Deck
Most tournaments are Constructed events. This means that your child will need to bring their own Deck in order to play. A Deck is not just a random handful of cards from your child's collection. A well-built Deck includes good cards and strategies. In addition, the Deck must meet certain requirements in order to promote fair play. For their first Deck, your child will probably enjoy playing one that contains their favourite cards, perhaps with some strong cards recommended by other Duelists. You can also purchase a pre-built Starter Deck or Structure Deck that is ready to play right out of the box.
Most Duelists like to put Card Sleeves on the cards in their Deck to keep the cards clean and in good shape. Card shops and most other stores that sell trading cards carry these sleeves, as well as Card Cases in which to store Decks.
If your child would like to build their own Deck, help them make sure that the Deck meets all the rules. You can do this by reviewing the Format List page. This format will change periodically to promote new Deck ideas and to keep the game exciting for Duelists. Click here for a link to the Format List page, which will explain which cards your child can use in a Deck.
Once you find a local Official Tournament Store, you will usually meet a Judge, Tournament Organiser, or more experienced Duelist who can give your child some additional assistance with their Deck.
Tournament Supplies
In addition to their Deck, there are a couple of other things your child should bring to an event.
First, your child should bring a Card Case in which to keep their Deck. A Card Case gives your child a place to store all of the cards in their Deck, so that the cards in their Deck are always together, and don't get mixed in with the rest of their collection. In a competitive tournament, the Deck that your child is playing with must be kept separate from the rest of their collection.
Second, your child might want to put the cards they bring to a tournament in Card Sleeves. Card sleeves help protect cards from becoming damaged as kids play with them. Although your child doesn't need card sleeves or a Card Case to play the Yu‑Gi‑Oh! TCG, most Duelists have them, because using a Card Case and card sleeves is the best way for them to protect their cards from getting damaged, especially if they want to trade those cards later.
Third, your child should bring a pencil and paper. This will allow your child to keep track of each player's Life Points. Using pencil and paper to keep track of changes in the score is required by tournament policy. Your child can also use a calculator or the calculator feature in our tournament support app, Yu‑Gi‑Oh! NEURON, to assist with math if needed.
Fourth, your child should bring any Tokens or dice that the cards in their Deck may require. Some cards in the Yu‑Gi‑Oh! TCG will put special "Tokens" on the field or will require a Duelist to roll a die. If your child uses any of these cards in their Deck, it's always best to bring your own Tokens and dice to tournaments, as it may not be possible to borrow them from others.
Finally, your child should keep all these things in a bag or backpack which they can keep track of easily. For their first events, your child doesn't need to bring every card they own – it can be hard to keep an eye on a lot of possessions at an event, and you don't want your child to lose anything.
How can my child learn more about the rules and basic gameplay?
Before your child enters a tournament, it's always a good idea to make sure they first understand the basic rules of the game. We have several online resources to help you and your child prepare for a tournament, by teaching you about the rules and basic gameplay.
You can find the Yu‑Gi‑Oh! TCG Rulebook, along with a Learn To Play Demo, under the "Play" section here.
How can my child and I learn about Tournament Policies?
While local tournaments are often very casual, there are guidelines in place for all KONAMI Organised Play events. These guidelines are designed to promote good sporting conduct and a fair play experience for all participants. It is a good idea to go over these policies with your child, so you will both know what is and is not allowed at a tournament. This gives you a good opportunity to discuss the concept of rules with your child, and why it is important to understand and follow them. Tournament policies and rules are in place to help events run smoothly and fairly, not to target or punish the Duelists indiscriminately.
KONAMI keeps current copies of all tournament policies online, where you can access them easily. You will find them posted in the Play section on our website.
How can I talk to my child about being a good sport?
Duelists are always expected to show good sporting conduct. Wins and losses should be given and accepted with good spirits and congratulations to the opponent, no matter what the Duelist's age. Duelists, especially when they are starting out, shouldn't be discouraged by or focus on losses, but rather learn from each Duel and think about enjoying the game. Talk to your child beforehand about good sporting conduct—discuss how to be gracious in wins as well as in losses. Games are meant to be fun!
How can I offer my child my support in the game?
One of the best ways for a parent to stay close to their children is to learn about and share their interests. Take a little bit of time to learn about your child's new hobby, so you can talk about it with them. Make some time in the family schedule to take your children to some Organised Play events. If your child has friends who are also interested, consider joining forces with their parents to arrange a carpool, so the children will have familiar company at the events.
What can I expect after arriving at a Yu‑Gi‑Oh! TCG event?
Okay, so you're taking your child to an Organised Play event. What now?
First off, make sure you arrive before the starting time. If a Duelist arrives late to a tournament, they may not be allowed to enter or may be entered into the tournament with an automatic loss for the first round.
Secondly, check if your child needs to fill out a registration slip or Deck List. At some local tournaments, your child can participate simply by telling the tournament organiser that they would like to play. At the OTS level for the local tournament, the Duelist would be asked to buy one OTS Pack for entry into the tournament. Some OTS offer free tournaments as well for younger Duelists. At many events, however, your child will need to fill out a registration slip before they will be entered into a tournament. A registration slip is a small sheet of paper that asks for basic information, like your child's first name, last name, and birthday. It's used to help the Tournament Organiser keep track of who is playing in the tournament and enter each Duelist into the tournament software.
The registration slip may also ask your child for their CARD GAME ID number. Your child's CARD GAME ID identifies them as a Duelist, and lets you track their performance in sanctioned tournaments. Your child can sign up for a CARD GAME ID online at the official KCGN website, or obtain one for free at any OTS or any event that requires Duelists to have a CARD GAME ID number to participate. If your child is under the age of 13, then the parent or guardian can sign up on their child's behalf. A parent or guardian will also have to sign the registration slip before the child can register for an event.
Depending on the type of event that your child is entering, he or she may need to fill out and submit a "Deck List" before the event, along with their registration slip. Deck Lists list every card that is used in a Duelist's Main Deck, Side Deck, and Extra Deck. Deck Lists are most commonly required at Tier 2 and higher events, which are the most competitive Yu‑Gi‑Oh! TCG tournaments. Deck Lists are used to make sure that a Duelist is starting with a legal Deck, and does not change the contents of the Deck throughout the duration of a tournament.
After all of the Duelists have registered and handed in their Deck Lists (if Deck Lists are required), pairings will be posted for Round 1 (see next paragraph for details on pairings) and then there may be a Duelist meeting. During the Duelist meeting, tournament officials talk to all the Duelists at once to give them important information about the tournament. After the Duelist meeting concludes, a tournament official will announce the start of Round 1 and the tournament is underway!
Tables in the tournament hall will have numbers, and the pairings indicate at which table each Duelist in the tournament will be playing. Have your child find their name on the pairings sheet, and then report to the table at which they will be playing. Pairings will be posted before every round of the tournament. Your child needs to check the pairings each round to find out where they are playing. If your child is having trouble finding their table, they can ask a judge or tournament official for help.
Although some parents participate in the same tournaments that their children enter in order to stay as busy as their kids, many parents do not. Most events have an area where parents who aren't playing can wait for their kids, so bring along something to read or do while your child plays in the event. You can also choose to watch from the side of the tournament to see how your child is doing.
If you do decide to watch your child play, remember that you cannot interfere in any of your child's Matches. If you are concerned about something going on during the game, you can always alert a judge, who can investigate. Before the tournament begins, make sure your child knows that they should always call over a judge, if they are concerned about something or have a question about the game. You can certainly talk to your child about their Duels when the Match is over but offering advice or suggestions during the Match is not allowed.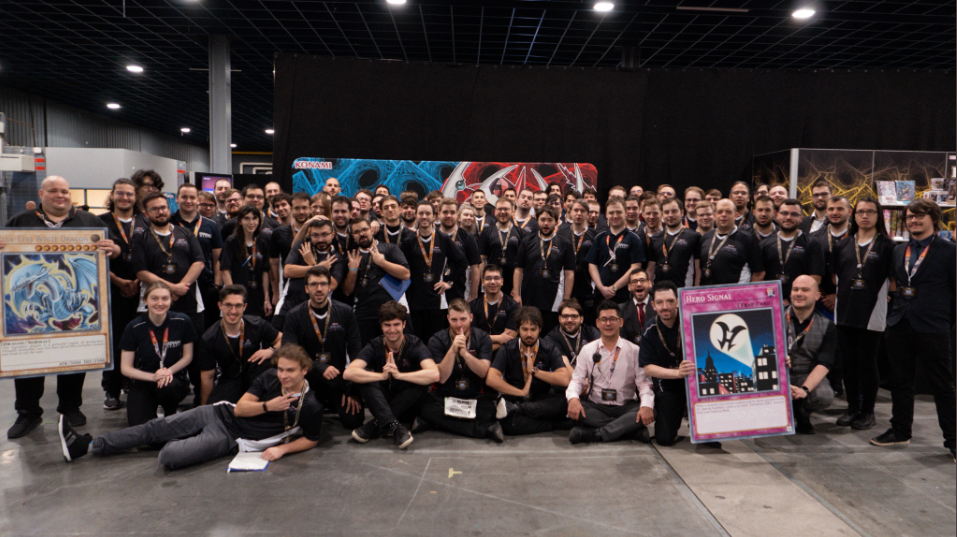 Parents are responsible for their children's well-being at an event. Remember that store owners, employees, judges and tournament staff have numerous duties to attend to in order to run the event, and they are not able or expected to supervise children on parents' behalf.
Judges and tournament officials are also a great source of information about the tournament and the game in general, but make sure you hold any questions that aren't directly related to what is going on during the games until after the tournament is over, so they can stay focused on the event at hand.
What can I do after my child's Yu‑Gi‑Oh! TCG Tournament is over?
When the event is over, make sure to celebrate your child's accomplishments! Congratulate them on examples of good sporting conduct, games won, exciting trades, or making a new friend.
If you talk to your child about each event after the event is over, your child will also be able to learn important life lessons from every event that they enter. In all types of competition, it's important to lose gracefully and be humble in victory. Talk to your child after each competition to make sure that they understand this. Duelists that display good sportsmanship typically have the most fun and make the most friends at Yu‑Gi‑Oh! TCG events.
If your child is feeling discouraged by their losses in a particular tournament, make sure that they understand that it's impossible to win every time. Even the best Yu‑Gi‑Oh! TCG Duelists in the world experience defeats. People must cope with losses in competition throughout their entire lives. A child's loss at a Yu‑Gi‑Oh! TCG tournament creates the perfect opportunity for a parent to teach their child the importance of learning from a loss and moving forward.
At high levels of competition, the Yu‑Gi‑Oh! TCG requires Duelists to have strong math skills and develop complex strategies in order to succeed. Make sure your child understands that the more they practice playing the Yu‑Gi‑Oh! TCG and the more they develop their math and critical thinking skills, the better they will become at the game.
If your child had a good time and would like to go back, find out about upcoming events and mark them on the calendar.
If you didn't participate in your child's tournament, next time consider joining in the fun! You can always build your own Deck and enter the tournament alongside your child or become part of the staff at an upcoming event. Many judges and other tournament staff become involved in the game in order to share in their child's interest. That way, both of you can have fun!
It's Time to Duel!